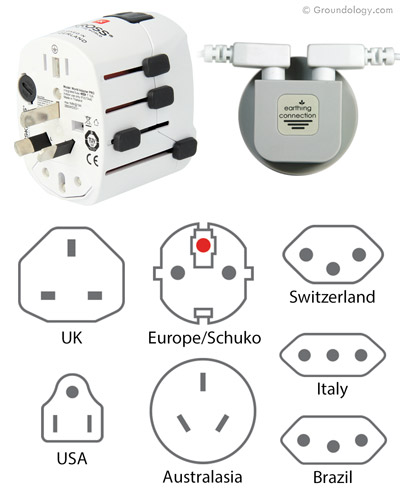 The worldwide connection plug set is suitable for use in most countries around the world. It covers the following socket types:
UK:
Bahrain, Bangladesh, Botswana, Brunei, Cyprus, Ghana, Gibraltar, Hong Kong, Iraq, Ireland, Jordan, Kenya, Kuwait, Macau, Malawi, Malaysia, Malta, Mauritius, Nigeria, Oman, Pakistan, Qatar, Singapore, Sri Lanka, Tanzania, UAE, Uganda, United Kingdom, Yemen, Zambia and Zimbabwe.
US: United States, Canada, Mexico, Central America, the Caribbean, northern South America (Colombia, Ecuador, Venezuela and parts of Brazil), Japan, Taiwan and Saudi Arabia.
Europe:
Austria, Belgium, Bulgaria, Chile, Croatia, Czech Republic, Estonia, Finland, France, Germany, Greece, Hungary, Iceland, Indonesia, Italy, Latvia, Lithuania, Luxembourg, Netherlands, Norway, Pakistan, Poland, Portugal, Romania, Russia, Serbia, Slovakia, Slovenia, South Korea, Spain, Sweden, Turkey and Uruguay.
Australasia:
Australia, New Zealand, Fiji, Argentina and Papua New Guinea.
Switzerland, Italy, Brazil and USA.
If you have any doubt about whether your mains system is properly earthed, and especially when travelling, we advise using a socket tester to check. The
Socket tester (Europe)
can be used with this adapter set to test any socket.