Due to the growing popularity of these products, there are now imitations and counterfeits appearing on the market. Everything here is a genuine Earthing™ or Groundology™ product. Please be aware that official distributors are not permitted to sell on marketplaces such as Amazon and eBay, and so products sold there are not likely to be genuine.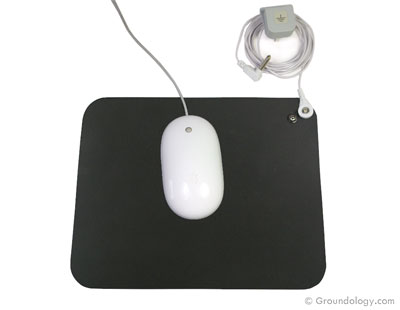 Conductive grounding mouse mat / mouse pad, enabling you to be grounded as your hand rests on the mat while using the mouse.
Suitable for all types of optical and ball mice.
This is ideal for laptop users with an external mouse. If you have a conventional keyboard and mouse then consider the
larger grounding mat
instead.
Some area of bare skin should touch the mat in order for you to be grounded, although it will work to a lesser degree through thin fabric.
Measures 250mm x 250mm (10" x 10").
Comes complete with a 4.6m (15ft) connection cord, and your choice of Earth connection.

Download the user guide for this product
Currently out of stock - please contact us for more information.
Optional accessories:

Socket Tester

Extension cord - 3m

Extension cord - 12m