Due to the growing popularity of these products, there are now imitations and counterfeits appearing on the market. Everything here is a genuine Earthing™ or Groundology™ product. Please be aware that official distributors are not permitted to sell on marketplaces such as Amazon and eBay, and so products sold there are not likely to be genuine.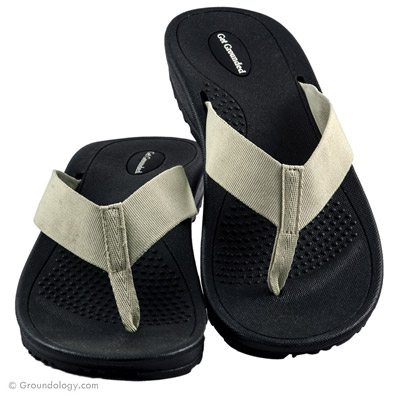 High quality conductive footwear that grounds the wearer in comfort and style.
This is the latest generation grounding footwear, with a contoured footbed that is fully conductive across the whole sole. It is made of a specially developed
TerraPlus
material that gives full surface grounding for the foot (earlier grounding footwear designs used a carbon 'plug' in the middle of the sole). They are effective on most outdoor surfaces, such as grass, earth, sand or concrete.
The fabric strap is both comfortable and functional and the unique outside upper strap attachment provides added comfort and a more flexible fit.
Contoured grounding footbed with full surface conductivity

Comfortable Fabric Uppers For A "Roomy" Fit

TerraTread™ high traction sole

Brand New TerraPlus Footwear material

Fully washable (with soapy water)

High quality, made in USA


Watch the product information video
Please refer to the table below to choose the correct size:
| Size | UK | Europe | USA | Australia | Foot Length |
| --- | --- | --- | --- | --- | --- |
| ML | 6-7 | 39-40.5 | 6.5-7.5 | 6-7 | 242-250mm |
| L | 7.5-8 | 41-41.5 | 8-8.5 | 7.5-8 | 255-259mm |
| LL | 8.5-9.5 | 42-43 | 9-10 | 8.5-9.5 | 263-272mm |
| XL | 10-11 | 43.5-44.5 | 10.5-11.5 | 10-11 | 276-284mm |